Dry Does
Dr

The following group of does include three dry yearlings from last year and a group of doe kids from this year's
kiddings. We are so very pleased with the appearance and potential of these young does!
We are waiting eagerly to add them to the herd as milking does. As space, time, and the work load limit
how many we can retain, we will be offering a significant number for sale after freshening.
First Freshening Two Year Olds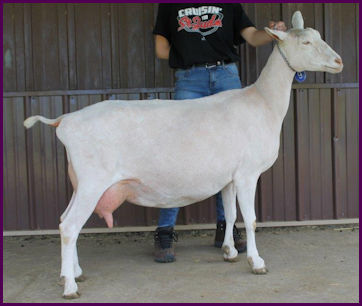 SG Kapra Vista Believe N Fate 11*M - Dam of Destiny
Kapra Vista LGI Destiny
DOB: 04/15/17
S: +B Loughlin's Grand Illusion
D: SG Kapra Vista Believe N Fate 11*M 91 VEEE


Kapra Vista CNSF She's A Star 10*M - Dam of Star Struck
Kapra Vista Grimm Star Struck
DOB: 05/09/17
S: *B Kapra Vista LGI Winter Grimm
D: Kapra Vista CNSF She's A Star 10*M 90 VEEE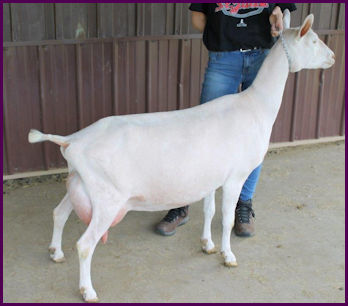 Kapra Vista Marquis Tamari - Dam of Tanaka
Kapra Vista Trader Tanaka
DOB: 04/19/17
S: *B Century Farm's Day Trader
D: Kapra Vista Marquis Tamari 15*M 91 VEEE @ 2-2
Yearlings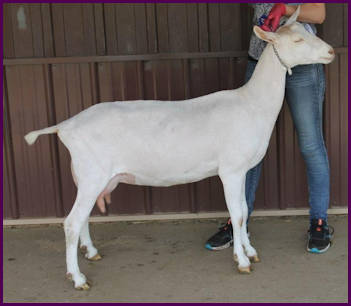 Kapra Vista LGI Second Thyme 11*M - Dam of Stitch N Thyme & Thyme Keeper
Kapra Vista LA Stitch N Thyme
Kapra Vista LA Thyme Keeper
DOB: 03/24/18
S: *B Loughlin's Avalanche
D: Kapra Vista LGI Second Thyme 11*m 88 VVEV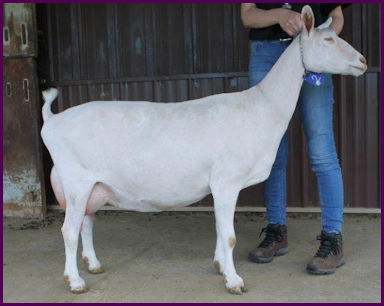 SG Kapra Vista LGI Vision 10*M - Dam of GSD

Kapra Vista GSD ????
DOB: 03/23/18
S: *B Kapra Vista Grimm Star Dust
D: SG Kapra Vista LGI Vision 10*M 88 VVEV @ 2-0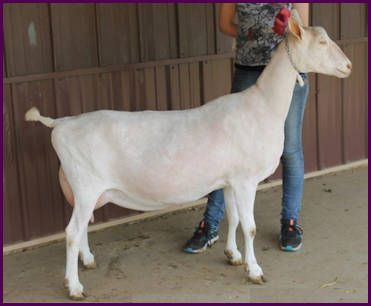 SG Kapra Vista Kist by Winds 9*M - Dam of Chased by Winds
Kapra Vista Touch of Winds
DOB: 03/04/18
S: *B Loughlin's Avalanche
D: G Kapra Vista Kist By Winds 9*M 90 VEEE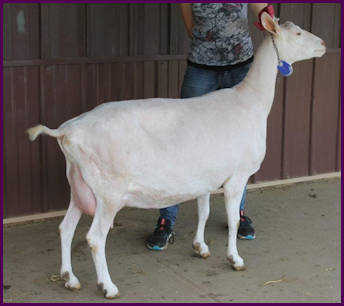 SG Kapra Vista TMV Symbolism 16*M - Dam of Trade Secret
Kapra Vista Trade Secret
DOB: 04/01/18
S: Century Farm's Day Trader
D: SG Kapra Vista TMV Symbolism 16*M 91 VEEE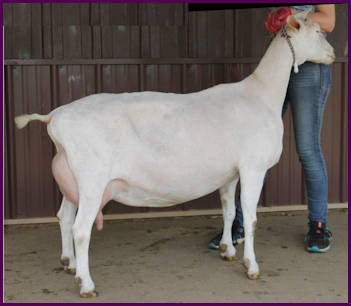 Kapra Vista CNSF Not A Doubt - Dam of Certainty
Kapra Vista LA Not A Certainty
DOB: 03/04/18
S: *B Loughlin's Avalanche
D: Kapra Vista CNSF Not A Doubt 7*M 91 EEEE @ 5-0

Page last updated on 01/03/2019
Home * Herd History * Bucks * Mature Does * Semen
Kidding Schedule * Links * Contact Us
Contents copyright Kapra Vista Saanens, 2009-2019
Website designed and maintained by Sunflower Web Design, Deb Macke