Dam: SGCH Udderly-Crazy BE Snowfall 2*M

*B Loughlin's Avalanche
AS1796904
DOB: 03/03/16

S: *B Sartyr Drifter Treviso
SS: *B Noble Springs Drifter
SD: SGCH Sartyr Kojack Trevi 7*M
93 EEEE PTI 6 36
2-09 3540 2.7%F 2.7%P
2012 National GCH

D: SGCH Udderly-Crazy BE Snowfall 2*M
92 EEEE PTI 71 101
3-00 3020 124F 93P
DS: ++*B SG des-Ruhigestelle Elros 91 EEE PTI: 86 32
DD: GCH Udderly-Crazy Sno Blizzard *M
92 EEEE
4-00 233 2110 4.4%F 3.0%P

At 1 1/2 years, this boy is very impressive! He is so exceptionally long and level and wide, it is a pleasure to watch him move. He has excellent rear legs viewed both from the side and rear with strong feet. Maybe best of all, his daughters all mimic his strengths!

As Avalanche matures he just impresses us more! We have retained 5 daughters from him this year and all show his length and levelness. We freshened Kapra Vista LA Finally Wicked who is not only a correct yearling but also strong in production.

Avalanche daughters are remarkable for production, with all of his yearling daughters milking 2500# to 3000#. His daughter are all very strong in topline with long, wide and level rumps, tall and upstanding with lovely mammaries!


Dam: SGCH Udderly-Crazy BE Snowfall 2*M

Pat. granddam: SGCH Sartyr Kojack Trevi 7*M
Photo of Trevi courtesy of Redwood Hill Farm
Photo of Snowfall courtesy of Loughlin Dairy Goats


Dam: Maple-Oak Opus Icelandia
Maple-Oak Iced Siberian
S1952580
DOB: April 14, 2018

LA:

S: ++*B SGCH Lake Country Sno Creta Caesar 87 VVE
SS: ++*B GCH Perfection Snolan 87 VVE
SD: GCH Floral Hill Farms Creta 5*M 90 VEEV

D: Maple-Oak Opus Icelandia
Jr. GCH '16 WI State Fair
DS: ++*B GCH Lake Country Sno Magnum Opus 91 EEE
DD: SGCH Maple-Oak Icy Hot 1*M 92 EEEE@9-04
1st place/1st udder 5 year old 2012 National Show

We are fortunate to welcome "Ice" to our herd this year! In an attempt to rebuild our purebreds, we have been looking for genetics similar to what we have had in the past and Ice certainly qualifies. Lake Country Snow Magnus Opus (Perfection Snolan X Lake Country Sno Mirage) is a maternal brother to Lake Country Caesar Marquis - a buck we owned and sire to Kapra Vista Marquis Tamari, currently in the herd. To increase our purebred numbers, offspring from Ice will be limited.

We have only one Ice daughter but are very pleased with her. He was used again, along with his son, Sy, hoping for more doe kids this year.



Dam: Maple-Oak Opus Icelandia

Sire: ++*B SGCH Lake Country Sno Creta Caesar


Mat. granddam: SGCH Maple-Oak Icy Hot 1*M

Mat. grandsire: ++*B GCH Lake Country Sno Magnum Opus

Pat. granddam: GCH Floral Hill Farms Creta 5*M

Pat. grandsire: ++*B GCH Perfection Snolan
Photos of Icelandia and Icy Hot courtesy of Maple-Oak Saanens
Photos of Caesar, Snolan, Creta and Opus courtesy of Lake Country Saanens


Dam: Loughlin's Just Add Ice
Loughlin's On the Rocks
AS 1981746
DOB: April 29, 2018

LA:

S: *B Tempo Passa Extreme Wave
SS: *B Tempo Passa Catch the Wave
SD: SGCH des-Ruhigestelle Elenya 10*M 93 EEEE @ 6-04

D: Loughlin's Just Add Ice
DS: ++*B SG des-Ruhigestelle Elros 91 EEE @ 3-04
Elite Sire
DD: CH Loughlin's Just A Dream



This boy has a very strong pedigree! His sire's dam, Elenya, milked over 3000# as a yearling and records over 4000# as she matured. She was the 2017 National Showh GCH with Res. Best Saanen Udder. His sire's granddam, SGCH des Ruhigestelle Winchaser 4*M 5-04 92 EEEE, was the National Show GCH in 2013. His dam, Just Add Ice, is out of Just A Dream, dam to +*B SG Loughlin's Grand Illusion (Joey) who has produced correct and productive offspring for years in our herd. Rock is already starting to show us some of his strengths - length and depth and width, levelness of rump along with strong feet and legs.

Rock daughters are showing an increase in bone and width. They have correct feet and legs and have good depth of body. Rock has been our primary breeding sire for last season.

Rock continues to improve and impress! We retained many of his daughters and are so amazed with the consistency of correctness throughout the group.



Dam: Loughlin's Just Add Ice

Mat. granddam: CH Loughlin's Just A Dream

Pat. granddam: SGCH des-Ruhigestelle Elenya 19*M
2017 ADGA National Champion

Sire's greanddam: SGCH des-Ruhigestelle Wincatcher 4*M
2013 ADGA National Champion
Photos of Just A Dream courtesy of Loughlin's Dairy Goats
Photos of Elenya & Wincatcher courtesy of des-Ruhigestelle



Dam: SG Kapra Vista TMV Symbolism 16*M
Kapra Vista Iced Syrius
PS2200745 - Purebred

LA:

S: Maple-Oak Iced Siberian
SS: ++*B SGCH Lake Country Sno Creta Caesar 87 VVE
SD: Maple-Oak Opus Icelandia
Jr. GCH '16 WI State Fair

D: SG Kapra Vista TMV Symbolism 16*M 90 VEEE
DS: *B SG Tradewinds Mic's Voyager
DD: Kapra Vista Trace Symi 15*M 89 VEVE

We are pleased with the looks of this guy! He is growing into a powerful buck, strong and wide and smoothly blended too. As we work to build up our purebred numbers, we expect the same quality that we see in the American does and bucks. We're eagerly waiting to see what Syrius can do and looking forward to getting linear appraisal information on everyone!


Dam: SG Kapra Vista TMV Symbolism 16*M

Mat. granddam: Kapra Vista Trace Symi 15*M

Pat. Granddam: Maple-Oak Opus Icelandia

Pat. Grandsire: ++*B SGCH Lake Country Sno Creta Caesar
Photos of Icelandia courtesy of Maple-Oak Saanens
Photo of Caesar courtesy of Lake Country Saanens

Loughlin's Classic Chaos
AS2126715
DOB: 02/03/20

LA:

S: *B Cisco Kazana Hercules
SS: *B Noble-Springs Set Prime Dream
SD: SGCH Cisco CSO Chard Kazana 2*M

D: Loughlin's Classic Affair
DS: +*B SG Ranea Mercio
DD: Loughlin's Classic Glamour

As a yearling, Chaos has grown into a very tall and long buck, adding a good amount of width also. His strength of topline and beautiful rear leg set are among his strongest traits and are passed on to his offspring. He is a sweetheart buck! We are looking forward to seeing his first daughters freshen this spring.


Dam: Loughlin's Classic Affair
Photo of Affair courtesy of Loughlin's Dairy Goats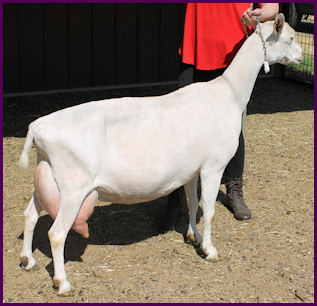 Dam: SG Kapra Vista LGI Point of View 10*M
Kapra Vista Rock Outlook
AS2200746
DOB:

LA:

S: Loughlin's On The Rocks
SS: *B Tempo Passa Extreme Wave
SD: Loughlin's Just Add Ice

D: SG Kapra Vista LGI Point of View 10*M 89 EEEE as FF 2 year old
DS: SG Loughlin's Grand Illusion
DD: SG Kapra Vista Icon Wait N See 9*M
Outlook was retained because i really like his dam, View. She is outstanding for type, appraising 89 EEEE as a first freshening two year old, and production, milking over 4000# with high components on both lactations. In breeding View to Rock, we are hoping to combine his power with View's strong traits. We used him on a few of our proven does and look forward to seeing if he passes on these traits to his offspring.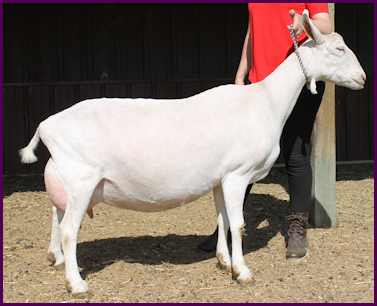 Dam: Kapra Vista CRC Smooth 10*M
Kapra Vista Kiss N The Knight
AS(pending)
DOB: 03/26/21

LA:

S: Loughlin's Classic Chaos
SS: *B Cisco Kazana Hercules
SD: Loughlin's Classic Affair

D: Kapra Vista CRC Smooch 10*M 91 VEEE
DS: +*B Companeros Royal Composer
DD: SG Kapra Vista Kist By Winds 9*M 90 VEEE
Because we love the doe line and because we are so excited and confident about Chaos offspring, when we decided we could add another buck, this boy was my first choice. His dam's sire, Composer, produced consistently excellent offspring for the short time we had him, crossing his genetics with those of Chaos holds a promise I am looking forward to.




Dam: SGCH (pend) Sartyr Gandalf Titania 9*M
*B Companeros Titanic Ruler
AS2185775
DOB: 04/06/21

LA:

S: *B Willow Lane Pliny the Elder
SS: +*B SG Old-English Irwin
SD: SG Willow-Lane Tressa 8*M

D: SGCH (pend) Sartyr Gandalf Titania 9*M 93 EEEE
2020 Top Ten for Milk & Protein
DS: +*B Cisco SFT Chard Gandalf
DD: Sartyr Eclipse Triage 8*M

What an exciting addition to the buck barn! His dam earned all three legs to her GCH in 2021. She appraised 93 EEEE and was named a Top Ten Saanen with #7 for milk and # for protein! Rule is very correct in conformation, a strong and correct young buck. It's been enjoyable to watch him mature and, of course, I can't wait to see his offspring!


Dam: SG Sartyr Gandalf Titania 9*M

Littermate sister: Companeros Titanic Tatiana

Mat. sister: Companeros Catch Tiara
Photos of Titania, Tatiana & Tiara courtesy of Redwood Hill Farm


Page last updated on 03/01/2022
Home * Herd History * Mature Does * Yearlings * Semen
Kidding Schedule * Links * Contact Us
Contents copyright Kapra Vista Saanens, 2009-2022
Website designed and maintained by Sunflower Web Design, Deb Macke