AI Sires/Semen


*B Kapra Vista Tsunamic Tsultan
S1176226
DOB: March 2000
S: ++*B SGCH Lake Country Romantic Tsunami
PTI 44 10
SS: ++*B GCH Two Ceders CC Joshua 90 EEE@ 5 yrs
SD: GCH Lake Country Opus Satinique 10*M 93 EEEE@ 5 yrs.
1st/1st udder '98 Nat'l. Show
2-01 284 4071 3.8%F 2.3%P
D: Kapra Vista Legend Saranda 10*M 90 EEEE@ 5 yrs.
2-00 305 2267 3.8%F 3.2%P
DS: ++*B Rio Del Oro's Legend
DD: Kapra Vista Status Sarae 9*M

Tsultan was in our herd for a short time, and left when we had to cut numbers. Fortunately, we did have him collected first. He is a littermate to Kapra Vista Tsunamic Tsarisa who gave us Tsarami, Tsarabi, Taesar, and Tsaesar! Lots of milk and pretty, correct offspring. Tsultan was a tall buck, strong and dairy and very level. We look forward to having these genetics at work in the herd again.


Dam: Kapra Vista Legend Saranda 10*M

Sire: ++*B SGCH Lake Country Romantic Tsunami

Pat. granddam: GCH Lake Country Opus Satinique 10*M

Pat. grandsire: ++*B Two Ceders CC Joshua

Kapra Vista Tsunamic Tsarisa 11*M 90 VEEE@ 2 yrs.
2-11 305 3562 3.7%F 3.0%P
Littermate sister to Tsultan
Photos of Satinique, Joshua and Tsunami courtesy of Lake Country Saanens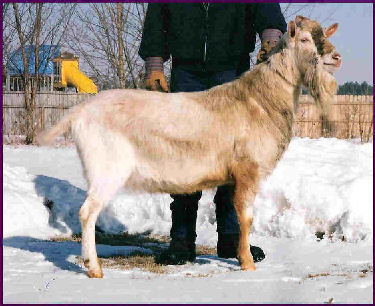 +*B Lake-Country Merit Cochise
S1063490
DOB: February 1996
S: +B Rollingstone Merit
SS: +B Rollingstone Chief Chinook
SD: Rollingstone Maia II
D: SGCH Lake-Country Sunrise Calentia 10*M
DS: ++*B SG Lake-Country Sno Sunrise
DD: The Grovers Acres Lady Miriam 9*M
We are happy to have Shaira bred AI to Lake-Country Merit Cochise. He comes from a background solid in type and production - show winners on all levels! It is so great to be able to go back and use some of these great bucks who have so much to contribute.

Dam: SGCH Lake-Country Sunrise Calentia 10*M
2-02 281 3334 116 3.5% 104 3.1%
2nd 2 year old '95 National Show

Littermate sister to sire: GCH Lake-Country Snow Shasha 7*M
8-01 205 2773 91 3.3% 95 3.4%


Daughter: SG Kapra Vista C dust N The Wind 2*M LA 90 VEEE
3-09 305 4321 2.6% F 2.8% P
Every lactation over 3000#!!!

Daughter: Lake-Country Merit Christancia 5*M
2-11 290 3379 4.9% 165 3.3% 112


GCH Cherrypines Ethel Sweetwater, 2007 National Grand Champion
sired by a Cochise son: *B Kapra Vista Cochise Tom A Hawk

Photos of Calentia, Christiancia and Shasha courtesy of Lake-Country Saanens
Photo of Sweetwater courtesy of Steve Pope Photography


We have semen available from many of our bucks from the past,
along with more recent herdsires. It is offered at a 5 straw minimum.
Buyer is responsible for transportation arrangements and cost. Please contact
us for cost and availability.
ljhaass@centurytel.net

PUREBRED
Kapra Vista Sno Shovanist
Kapra Vista Solo Shaman
Kapra Vista First Priority (limited)
Lake Country Composition Solo
Lake Country Caesar Marquis
Kapra Vista Marquis Taesar (limited)
Kapra Vista Image San-Sation
Kapra Vista Doin It With Style
Kapra Vista Tsunamic Tsultan
Sweet Harvest Flashdance
Rio Del Oro's Status
Floral Hill Farms Apollo
Lake Country Merit Cochise
Kapra Vista Cassimir T Cassini

AMERICAN
Kapra Vista Reliant Windsor
Kapra Vista Perfect Banner
Cherrypines Stary Knight
Little Paradise Summer Storm
Tres Amigo Dividend Icon
Kapra Vista Marquis Dustbuster
Kapra Vista Hear Mi Thunder (limited)
Little Paradise's Commander
Kapra Vista Sno Sequestran
Little Paradise's Lovin Bear
Kapra Vista Mid-Knight Special


Page last updated on 02/18/2020
Home * Herd History * Bucks * Mature Does * Yearlings
Kidding Schedule * Links * Contact Us
Contents copyright Kapra Vista Saanens, 2009-2020
Website designed and maintained by Sunflower Web Design, Deb Macke